Move Over RED, JVC's Affordable 4K Camera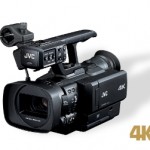 That's right, JVC announced the small, handheld professional 4K camera, GY-HMQ10, at CES in January 2012, and it's going to cost $5,000. It has a 1/2.3-inch backlit CMOS sensor with 8.3 million active pixels shooting in 3840 x 2160, at 60p, 50p and 24p. The HMQ10 uses the Falconbrid picture processing technology to handle 4K acquisition and image processing without needing sn external device for storage. with that workflow, you would need to process the 4K clips in your NLE or other software. It also ships with a fixed, high resolution lens made for 4K resolution, at F2.8, plus the ability to record up to two hours on four 32GB SDHC cards (you need all four SDHC cards to shoot in 4K), full 1920 x 1080 HD resolution (only 1 card needed), a high resolution touchscreen LCD (920,000 pixels) and a quality viewfinder (260,000 pixels). And a whole heckuva lot more. You should check out JVC's page on the GY-HMQ10, and read the press release here. It should be available in the spring, either March or April 2012.
I'm very excited about this affordable 4K camera, and it's fitting that JVC is introducing the world's first sub-$20,000 (or so) 4K cinema camera. While 2003's JVC HD10 wasn't the greatest camera (I bought one that summer — here's a film I directed shot on it, featured in a few film festivals), it launched HDV which contributed many of the HD compression techniques we know and use, such as those for Sony, JVC, Panasonic and Canon HD camcorders, along with HDSLRs like the Nikon D5100 or the legendary Canon 5D Mark II. I have a feeling the quality will be excellent, and I'm looking forward to cutting the 4K footage with Final Cut Pro X, which can handle 4K editing without a problem. It captures via MP4/H.264, and JVC includes a software program for Mac to make it easier to import and convert the footage via a single USB cable. Cool!
It's interesting how the 4K video is captured onto the required four 32GB SDHC cards, which JVC explains (and more) on the GY-HMQ10's technical page. Essentially, it shoots 144 Mbps (Megabits per second), variable bit rate, and the 4K image is actually split into 4 separate pieces, if you will. Each one goes to a different card, as illustrated below:
JVC's Archive and Merge Utility software that ships with the HMQ10 4K camera (Mac and Windows) will combine the four video images into one for cutting, though JVC promises near real-time 4K playback from the camera via four HDMI ports and cables. With Mac, it will turn it into a single 4K ProRes video clip, of all your 4K camera footage.
It's making me think also about shooting with the JVC in 24p and converting it in FCP X to 48p, or shooting 50p and converting to 48p. The legendary Douglas Trumbull, James Cameron (for Avatar 2 and 3 at 60p), Peter Jackson (The Hobbit is shooting in 48p) and others see higher frame rates as the next evolution in filmmaking. The higher the frame rate, the more 'realistic' the image becomes. Of course, digital projectors will need a special upgrade, but a lot of theaters have gone digital, something I've been hoping for since the mid-90s and early 2000s.
So basically, we're getting a 4K camera for $5000, around the price RED said the original Scarlet was going to run, at 3K resolution, back at NAB 2008. This is in no way any sort of disrespect to RED — the Scarlet has become much better than they originally planned, and the current price is right for those changes. By the way, 4K editing with the RED isn't hard with their Red Rocket with Thunderbolt and a Sonnet Chassis, a MacBook Air, Windows via Bootcamp (or OX Lion) and Premiere Pro CS5.5, as demonstrated by Dave Helmy via Gizmodo. JVC just makes it easier.
Images courtesy JVC.