Apple Announces OS X Mountain Lion 10.8
Apple introduced their next-generation operating system, OS X Mountain Lion 10.8, which will be released summer 2012. Of course! What comes after Lion but Mountain Lion? This looks to be an update similar to 2009's Snow Leopard, giving the extra boost and new feature to Leopard, which shipped in late 2007. Yes, it's OS X, not Mac OS X, though I noticed Apple had rebranded it when Lion debuted last summer. Looks like they're taking some of the best features from iPad and iOS 5 and bringing them over, which I like a lot. If you don't have a laptop with that great Multi-Touch TrackPad, you need to buy the Magic TrackPad, which I use exclusively with my Mac mini, and it lets you do all sorts of cool Multi-Touch gestures, like with the iPad, iPhone and iPod touch, thanks to OS X Lion. You can download the developer preview now. Also, I'm curious how Final Cut Pro X will run on Mountain Lion, and if new features were added under OS X 10.8's hood that FCP X can tap into? It's already pretty fast with Lion. Plus, with Mountain Lion, you'll be able to share your Mac's screen with your HDTV via the Apple TV, which you can do with iOS. Imagine editing in FCP X on a 50-inch HDTV!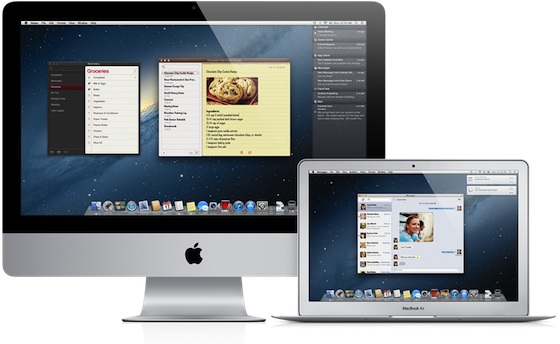 A brief rundown of the new features found in OS X Mountain Lion: Notes is pretty cool, similar in some aspects to the excellent Notebook from Circus Ponies, which I use almost daily; it's linked via iCloud to all your iOS devices, too, which is great. The Notification Center alerts you to new emails, appointments, third-party app alerts, etc., like Growl notifications, which I've used for 2-3 years now. Share Sheets is part of tech right out of what we use in iPhone and iPad, and it's easy to share sites you're on via Twitter, Email, Message, add to your Reading List or just bookmark it. Game Center is coming to OS X! It's pretty cool, and all about social networed gaming. Messages (download the beta now) is essentially iMessage, iOS 5's free messaging service, and what's cool is you can send video, etc., plus pick up on conversations when you go from Mac to your iPhone. Notifications comes to the Mac, though I still love using BusyCal and iCal to set up my appointments, reminders and alerts. AirPlay Mirroring lets you share what's on your desktop, making it easy to do a Keynote presentation, visit websites, etc., via your Apple TV. Twitter is more tightly integrated withing OS X; I'd like to see Facebook integration, if it's possible.
Check out the new features video to see everything in action: