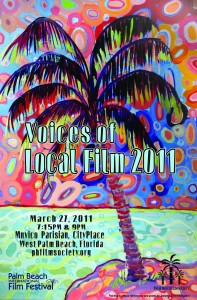 I'm inviting you all to the 2011 Voices of Local Film at the Palm Beach International Film Festival, Sunday March 27, 2011, starting at 7:15 PM. It's being held at the Muvico Parisian at CityPlace in West Palm Beach, Florida. For details, film line-up and ticket info, visit the Palm Beach Film Society website. Support local Florida filmmakers!
A little background: I founded the in 2002 as a way to spotlight local filmmakers in Florida, and to support filmmaking in the Sunshine State. In 2003, we launched the first annual Voices of Local Film, which allowed local filmmakers and their movies to be part of a special event during the Palm Beach International Film Festival.
Our Board grew and changed, with Elizabeth Dashiell, Hillary Runge, Jennifer Stone and Mark Pain as the last members before I left in early 2008 to go to St. Pete/Clearwater, Florida to co-produce the feature film "December." The last Voices I was involved with was in 2007, our fifth event. Elizabeth took over as President and presided over the 2009 and 2010 Voices events. In fact, I returned in 2010 not as a member of the Palm Beach Film Society, but as a co-producer since "December" was part of the fest! It was a little surreal, but fun!
Well, in early 2011, I came back to the Palm Beach Film Society as President, and I'm presiding over my first Voices of Local Film in 4 years! I'd love to see you there! Again, visit the Palm Beach Film Society website for ticket information and the film line-up! We have a lot of great movies this year!
The poster was painted by Alexia Hemingway and designed by Jossette Simo-Kleidgaard. Hat tip to Dawn Dubriel for her help and recommendation of these two talented ladies! You can buy a copy of the poster here; all proceeds will benefit the Palm Beach Film Society, a non-profit organization.