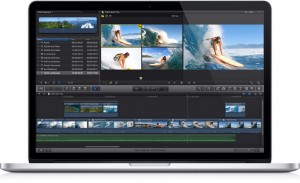 Today at the 2012 Apple Worldwide Developers Conference, Apple did some major updates to its line of hardware, updating the MacBook Air (and dropping the price), the standard MacBook Pro line, and introducing a brand new, thinner MacBook Pro line with Retina display, which Apple is calling their new 'flagship line.' Editing in Final Cut Pro X at 1080p on this 15.4-inch laptop will look great, as will photos in Aperture (both apps will be updated to the Retina display of 2880 x 1800, nearly 5.2 million pixels). The laptop will be pricey, starting at $2199, so this is a workstation-style laptop, aimed at the video editors, Photoshop and Aperture users and graphics/animation designers. All on sale as of today! By the way, looking at Apple's MBP page, it's appearing that the 17-inch MBP is history…
This new, thinner MBP also features up to a quad-core i7 2.7 GHz processor, up to 16GB of RAM, next-gen graphics (Kepler graphics, GeForce GT 650M with 1GB VRAM), HDMI out, two (!!) Thunderbolt adapters, USB 3 and 2, great speakers, and more. It's .71-inches thin! Solid State Drives, too (SSD), up to 768GB, battery life up to seven days, 30 days in standby mode. Check out more photos and video at doddleNEWS.
Apple is teasing that a 'major' update to Aperture is coming, and we're coming up on the first anniversary of FCP X's release. Larry Jordan got some inside scoops from Apple on the next FCP X update, including a built-in audio mixer, dual-viewer, RED support and more. I'm guessing this FCP X update with higher resolution for the retina display will include the new features and improvements Apple talked to Larry about.
Yes, there was a Mac Pro update, but it was VERY minor, blink-or-you'll-miss-it. Basically, according to The Verge, they bumped up the option of two six-core processors from 2.93 GHz to 3.06 GHz. No Thunderbolt, etc. And some other, minor processor updates, too, bringing the tech to the latest Intel processors.
Apple also introduced some adapters, including a FireWire 800 to Thunderbolt, and Thunderbolt to Gigabit Ethernet. iOS, hardware-wise (iPhone, iPad, iPod touch), Apple has sold 365 million units up to March 2012. Think about that for a minute, just astounding!
They previewed more of Mountain Lion which will debut on the Mac App Store July 2012 for $19.99 (!!), and the upcoming iOS 6 (Siri is improved AND can launch apps and will run on iPads, YES!), both of which look great. iOS 6 will debut this fall 2012, likely when the rumored iPhone 5 will be released. I'm pumped about these new, thinner MacBook Pros running Mountain Lion, I bet editing in FCP X will be a dream! Also, there are 125 million iCloud users, which is stunning. Notifications (like Growl, which I love), dictation coming to Macs, new version of Safari (I quickly adopted the beta back in 2003, that's how much I wasn't interested in Internet Explorer), tighter integration with Twitter, Facebook and other services, and more. Plus, their new and amazing maps/Flyover app, with 3D city models and turn-by-turn navigation.