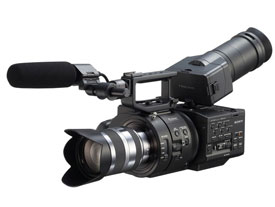 Sony introduced several new professional cameras on Monday April 2, including two NXCAMs, based on the AVCHD codec, featuring the 4K-ready NEX-FS700 with an S35 Exmor sensor, and the palm camera NX30U with advanced stabilization technology. Right now, the FS700 records in 1080p, but a firmware upgrade from Sony will allow it to record in 4K, plus an external device that will connect to its 3G/HD-SDI port. The NX30U is very small, but is still a professional Sony HD camera, recording to an internal flash drive or SD cards. The cameras will ship in June 2012.
Sony also introduced the smaller XDCAM EX camera, the PMW-100, which features 50 Mbps and 4:2:2 recording, better than the 35 Mbps, maximum, the EX1R and EX3 shoot in. It records to SxS cards, and has all the features found in Sony's pro camcorders. This camera should ship in May 2012, earlier than Sony usually ships when they announce cameras; in the past, it's been 4-6 months after the announcement.
Final Cut Pro X will have no problem with editing footage from these cameras.