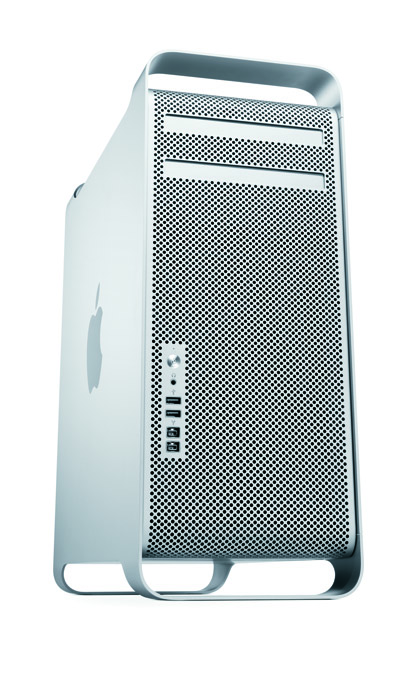 Looks like the rumors were slightly true about a new Mac Pro, but not entirely. Apple has updated the processors to the latest Xeon Intel E5 technology (check out the specs):
The option to get two six-core processors now at 3.06 GHz X5675, up from 2.93 GHz.
Dual six-core Intel E5645 Westmere-EP 2.4 GHz processors, or you can go with 2.66 GHz or the above-mentioned 3.06 GHz.
Single quad-core is an Intel Xeon W3565 at 3.2GHz, up from 2.8 GHz if I'm not mistaken, or you can choose a six-core processor at 3.33 GHz.
Unfortunately, the graphics cards are the same, an AMD Radeon 5770 or 5870, but you can buy a new one, if you'd like, from a third-party vendor. However, there isn't a Thunderbolt or USB 3.0 option available… But it's still the fastest Mac, and one of the fastest desktops available. I'd love to try one out with Final Cut Pro X.
My friend Paul (a film and TV editor) speculates that Apple could be using the processor updates to help get rid of stock hanging around, which might explain the lack of additional hardware updates. They can probably add the processors without much of a change, if at all, to the logic board. But part of me thinks MAYBE there will be a bigger update, perhaps in 2013. Or maybe a major iMac update with a retina display soon? For now, Apple introduced its new .71-inches thin MacBook Pro with Retina display. Now that's a pro machine!
Source: The Verge, Apple's Store