My Review Of The Matrox Thunderbolt Adapter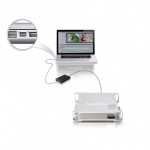 Matrox has some pretty cool all-in-one devices with their MXO2 line, which can handle video capture, conversion, broadcast monitoring and much more. I've had an MXO2 Mini for a couple of years, and used it regularly to capture BetaSP footage in Final Cut Pro 7, with a 17-inch MacBook Pro with an ExpressCard/34 slot. That Mac went away, and since I didn't have a Mac Pro (with PCI-Express), I couldn't use the MXO2 anymore. Until Thunderbolt changed everything, the new Apple and Intel technology that allows for blazing fast 10 Gbps (Gigabits per second) transfer speeds. With the Matrox Thunderbolt adapter, I can now use my Mac Mini with the MXO2 Mini and capture analog footage, and a whole lot more.
Plus, all of Matrox's new MXO2 devices feature software that's optimized for the technology, plus takes advantage of Final Cut Pro X's broadcast monitoring (see this press release). Be sure to check out my review at Digital Media Net.